Posts for: January, 2021
By Joseph R. Hendrick, Jr., DDS, PA
January 17, 2021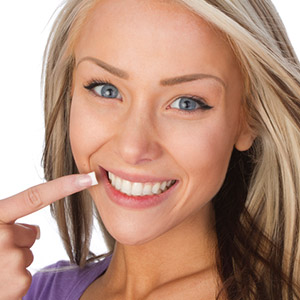 As part of the fight against COVID-19, many of us have been wearing some form of face mask in public for most of 2020. While it's intended for good, mask wear has had some unintended consequences. For one, it's inhibited the expression of one of our most important social abilities—smiling.
We're all hoping, though, that 2021 will be different—that our smiles will once more shine out from behind our masks. If and when that happens, you'll want to be ready: Here are a few things you can do in the new year to give your smile a nice upgrade.
Teeth whitening. Fighting teeth yellowing is an ongoing battle. Certain foods, staining beverages and habits like smoking can take the gleam from your smile in no time. But you can brighten up dull teeth with a professional whitening treatment. And because our bleaching solutions are stronger than you'll find in your local retail store, the shine could last for years with only an occasional touchup.
Orthodontics. Straightening teeth orthodontically not only can improve your dental health and function, it could revamp your smile (you might call it the original "smile makeover"). Even if you're well past your teens, an orthodontic correction may still be a viable option. And if you're concerned about your appearance during treatment, you might be able to take advantage of nearly invisible clear aligners.
Bonding. A chipped tooth can certainly detract from an otherwise attractive smile, but it may not take extensive means to repair it. Many chipped or disfigured teeth can be made whole through dental bonding. This technique bonds a color-matched dental material called composite resin directly to the tooth. Best of all, the treatment may only take one visit.
Veneers and crowns. For more extensive chipping or staining, you can step up to a custom-made porcelain veneer or crown. Veneers are thin layers of porcelain that are bonded to the face of teeth to mask imperfections. Crowns cover a damaged but otherwise viable tooth to protect it and give it a more attractive appearance.
Dental Implants. If you have a missing tooth—or one that's simply past saving—consider replacing it with a dental implant. A dental implant attached to a crown is the closest thing we have to a natural tooth in both appearance and function. In fact, most people with implant-supported replacement teeth forget they have dental implants. We can also merge implants with other restorations like dentures or bridges for a more secure, comfortable hold and a more natural smile.
These and other cosmetic enhancements could make a big difference in your smile. To find out how, see us for a complete dental examination and consultation. We want you to be ready for what we hope will soon be a "mask-free" 2021.
If you would like more information about improving the look of your smile, please contact us or schedule a consultation. To learn more, read the Dear Doctor magazine article "Cosmetic Dentistry."
By Joseph R. Hendrick, Jr., DDS, PA
January 07, 2021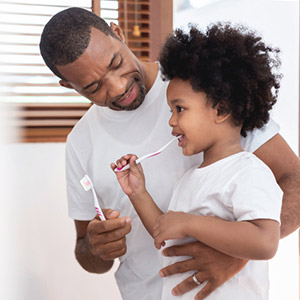 As they mature, your child's teeth, gums and jaws develop—if all goes well, they'll all be healthy and functioning normally when they enter adulthood. But tooth decay and other problems could derail that development and cause lingering oral health issues later in life.
Following these 4 guidelines now during your child's early years will help ensure their teeth and gums have a healthy future.
Start oral hygiene early. There's no need to wait for their first teeth to come in to begin your child's regular oral hygiene. Start with wiping their gums right after feeding with a clean wet cloth to minimize bacterial development. Then, start brushing as soon as teeth appear—to begin with, use a slight smear of toothpaste on the brush. As they mature, teach them to brush and later floss for themselves.
Check your water. Most utilities add tiny traces of fluoride to their drinking water supply. If your water supplier does, it can make a big difference (along with fluoride toothpaste) in helping your child avoid tooth decay. If your system doesn't, then speak to your dentist about whether your child could benefit from topical fluoride applied directly to their teeth.
Keep a check on sugar. Decay-causing bacteria thrive on the sugar added to processed foods, candies and many beverages. Even milder forms of sugar like lactose found in milk or formula can stimulate bacterial growth. So, in addition to daily brushing and flossing, do your best to minimize sugar in your child's diet. And don't put infants or toddlers to bed with a bottle filled with any liquid other than water.
See the dentist. Starting around their first birthday, regular dental visits can help keep your child's dental development on track. Dental visits are also an opportunity for preventive treatments against decay like sealants or topical fluoride. Your dentist may also detect the early signs of bite problems that if addressed now, could lessen their impact later in life.
Your child's dental health could get off course before you even realize it. But partnering with your dentist, you can help make sure your child's teeth and gums have a bright and healthy future.
If you would like more information on how best to care for your child's oral health, please contact us or schedule an appointment for a consultation. You can also learn more about this topic by reading the Dear Doctor magazine article "Top 10 Oral Health Tips for Children."